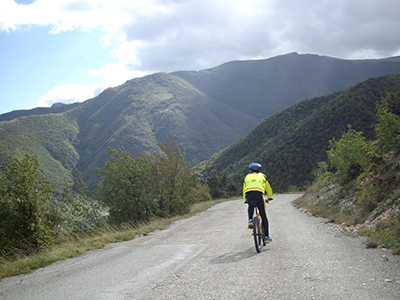 Cagli and nearby territory are the right choice to do outdoor activities by which enjoy art and nature: hiking, cycling or riding a horse give the opportunity to discover castles and medieval churches, Roman monuments and ancient hilltop villages.
Hiking on the trails of Monte Catria, Monte Nerone and in the natural reserve of Gola del Furlo takes visitors to the most scenic and panoramic spots. The network of nature trails offers a wide variety of itineraries from short strolls to full-day excursions. Central to many unmissable destinations, Cagli is the perfect starting point for trekking to picturesque villages and protected areas.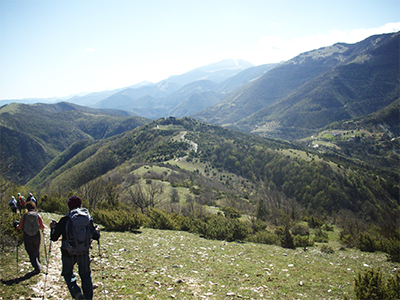 Low-traffic routes for all types of cyclists and mountain bikers, from experienced ones to families with children, allow visitors to discover the beauty and the authenticity of the region. Few cars travel the roads leading to Umbria through thinly populated villages on the Apennines. Thanks to that, a cycling holiday in Cagli and in Northern Le Marche is particularly healthy and relaxing. Cyclists come from all over the world to Monte Catria, Monte Nerone and Monte Petrano to try the fascinating climbs made famous some years ago by the thrilling stage of the 3 mountains. Information about routes for cyclists and mountain bikers are available in the apartments. No extra charge is required for using repair kits, pump, bike storage, dry room, washing machine. In the garden there is a tap with hose to wash the bicycle. Bars and grocery's shops to prepare breakfast and sack-lunch are within easy walking distance from Bonclerici House apartments. 
Guides for hiking and cycling are available in Cagli asking Bonclerici House staff.
Horseback riding is possible all year round in local riding centers. Horseback itineraries allow visitors to enjoy the incomparable landscape from the Apennines to the Adriatic Sea.
To learn about the opportunities of a cycling holiday in Cagli and admire the landscape of Monte Catria, Monte Petrano and Monte Nerone, profit by the videos taken from a movie made by Bike Channel in 2016.