Bonclerici House – apartments for holidays in historical inn
Prices to rent an apartment include: use of fully-equipped kitchen, sheets and towels, electricity, gas for cooking, heating for water, heating in the cold season, final cleanings; welcome staples in the kitchen (coffee, tea, salt, sugar, mineral water); free laundry service (or free use of the washing machine); sat-Tv with international channels; travel book about Cagli and the North of Le Marche; the use of the large private garden equipped with sets of garden furniture to have meals alfresco from April to October, an opportunity which in the historic centre of Cagli is provided only by this holiday home.

Daily and weekly rates to rent the apartments. Examples:
2 nights (or 1 week end) for 2 or 3 people: the total price to rent each apartment is 160 euro.
1 week for 2 people: the total price to rent each apartment is 360 euro (May, June, July, September, October, November).
Special prices for single guests or families with children. Maximum flexibility in satisfying requests from guests. Please, contact us to arrange an offer.
Open all year round.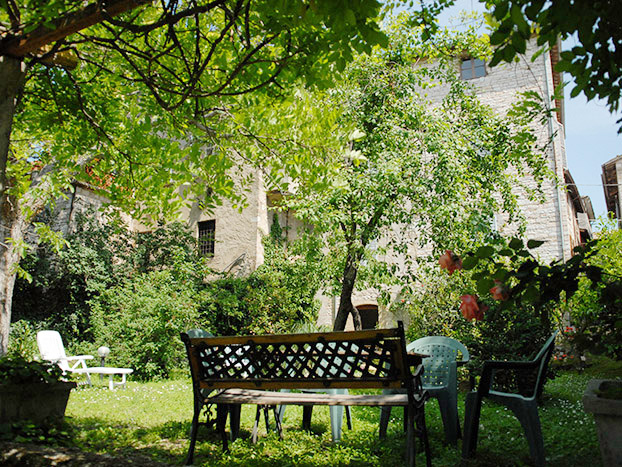 Anti-Coronavirus measures
Bonclerici House is observing strict measures to prevent the spread of the Coronavirus in the apartments. In conformity with the current laws, the mattresses are covered with waterproof mattress covers and the pillows are covered with waterproof pillow covers: they are changed, washed and disinfected at every change of guests in the apartment. Sheets and towels are changed, washed and disinfected too at every change of guests. Sofas in the apartments have been protected by waterproof covers which are sent to a professional laundry to be washed and disinfected at every change of guests together with all the blankets of beds. Pots, dishes and cutlery are washed by a dishwasher before the beginning of the stay. Rooms are cleaned and disinfected after the check-out of guests and windows are left open for 2 days until the new ones arrive. Carpets and some decorative pieces of furniture have been removed from the apartments.
In each apartment no spaces are shared with other eventual guests of the holiday home. Each apartment has its own independent entrance directly from the street. On request the garden can be rented with right of exclusive use by the guests of one of the apartments. Guests are provided with a 250ml bottle of disinfecting gel for hands.